The Celebrity Blowjob Contest
Welcome to The Celebrity Blowjob Contest! Our celebrity contenders have all been video taped eagerly polishing off some man pole, and now they eagerly await YOUR vote. The winner will receive this handsome certificate of achievement.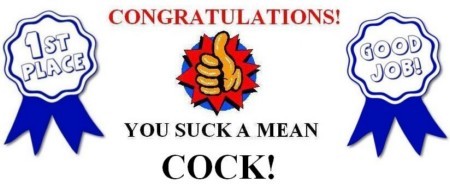 Watch the video and vote below!
---
Number of votes: 0
---
Here are my thoughts on the competitors.


Pamela Anderson - Probably would be the best if only she was working on a HUMAN penis.
Chloe Sevigny - Swallowed like a champ.
Geena Lee Nolin - Boring.
Paris Hilton - Awful.
Abi Titmuss - How I imagine all stuck up British girls give head.
Chyna - No comment cause I ain't a gay.
Severina Vuckovic - I think there is a 10% chance she'll bite it off. That's hot in a crazy sorta way.
Jenna Lewis - She got my vote because of her workman like performance.